Plantsmith Cacti & Succulent Care Cracker Set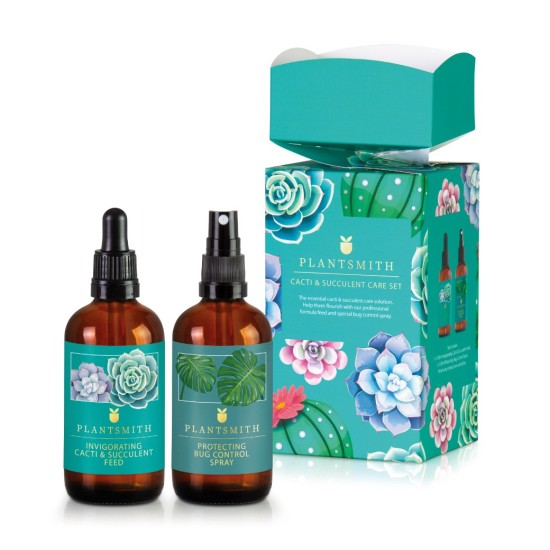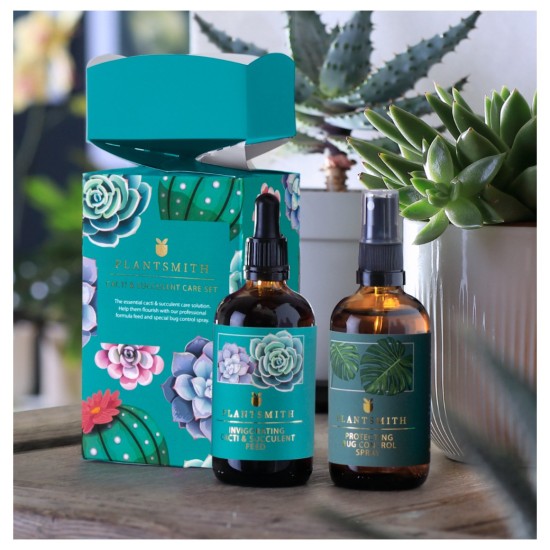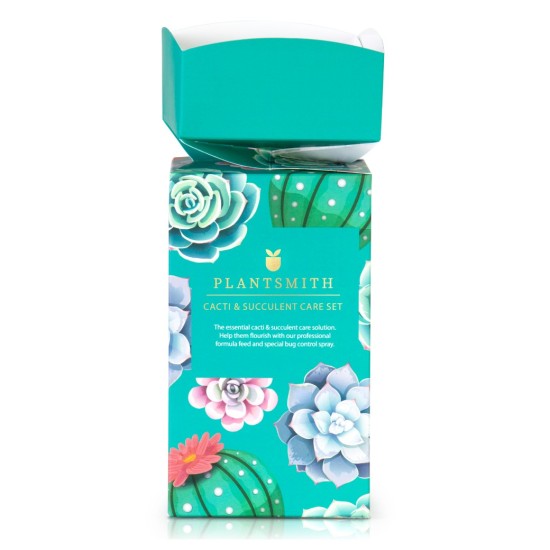 Plantsmith Cacti & Succulent Care Cracker Set
Stock:

In Stock

Model:

PS-CCRACK

Weight:

500.00g

Dimensions:

19.00cm x 9.00cm x 9.00cm

SKU:

PS-CCRACK-1
The Plantsmith Cacti & Succulent Care Cracker Set is the perfect gift for cacti & succulent owners. Contains a 100ml bottle of Invigorating Cacti & Succulent Feed with essential nutrients to promote healthy growth and a 100ml bottle of natural Protecting Bug Control Spray to deter unwanted pests and mildew.
Plantsmith is a company that provides houseplants with a complete care solution, professional and natural formulations with easy application to provide everything your houseplants need to thrive. Plantsmith's products are made with natural ingredients and are vegan and cruelty-free. They are also packaged in sustainable materials.
The Fortifying Houseplant Feed & Tonic is a complete houseplant food inspired by professional formulations. It contains all the essential nutrients that are vital for healthy, happy houseplants.
Unlike outdoor plants, houseplants are completely reliant on us to keep them well-fed. Although they arrive in compost that contains low levels of fertilizer, these nutrients are quickly used up. Fortifying Houseplant Feed & Tonic is a complete houseplant food inspired by professional formulations, that ensures your houseplants get the vital nutrients and vitamins they need to flourish. Containing 13 essential nutrients, including potassium, magnesium, and iron for strong, glossy leaves and the growth of more, longer lasting flowers, as well as kelp extract to stimulate cell growth. For an additional rejuvenating boost, our Perfecting Houseplant Care Mist helps to create the ideal humid environment most of our houseplants are comfortable in. Containing 17 essential ingredients designed to promote good health with every spray, Perfecting Houseplant Care Mist.
All ingredients are 100% vegan with no animal ingredients or by-products and all of our oils are Leaping Bunny certified cruelty-free.
All of our products have only three postage rates; Royal Mail Larger Letter @ £1.50, Royal Mail Small / Medium Parcel @ £3.90 and for large bulky items we use a reputable courier such as DPD, UPS or Hermes with a maximum charge of £12.00. If you order more than one item we will consolidate the items and levy one postage charge.
We deliver to all European Union countries using Royal Mail Tracked International. We are IOSS registered which means hassle-free shipping, we pay all Custom Fees and Import VAT which means you get faster shipping. The delivery cost will be shown at Checkout.
For a shipping quote for countries outside of the European Union please email us at quote@topiarygarden.co.uk